HURRICANE KIT
This should be kept in a waterproof well labled storage container. Keep heat-sensitive items inside your home.

Batteries - various sizes. Make certain you have enough for your flashlight as well as your radio and battery operated TV. These items can use up batteries quickly.
Flashlights - At least 1 per person
Glow Sticks / Chem Light Sticks - Some of these last 12 hours and make great night lights.
Battery operated TV and Radio
Fully charged battery-operated lanterns.
Matches
Clock (wind-up or battery operated)
Plastic garbage bags - various sizes for yard cleanup and household trash.
Working fire extinguishers - several
Scissors
Toilet paper - At least a 2 week supply
Clean change of clothes, rain gear, sturdy hi water boots you won't mind throwing away later
List of phone numbers
Copies of your Homeonwers or Renters insurance policy as well as Flood and Auto Insurance.

KITCHEN SUPPLIES
Manual can opener
Bottle opener
Cork Screw (if you are a wine lover)
Matches in a plastic bag
Pocket knife - preferably Swiss Army or Leatherman style
Camp stove or other cooking device and plenty of fuel. Use canned fuel, not charcoal or gas
I have a propane 2 burner camp stove that works great. It uses the long propane cylinders that you can find at any hardware store.
Ice chests or coolers
Paper plates and napkins
Aluminum foil
Ziplock Bags
Plastic cups, knives, forks, spoons
Dish Soap, Hand Soap, Cleaners and Bleach
Paper towels - Have plenty on hand for cleaning, use as napkins, etc.
Hand Sanitizer
Disposable Gloves - You will want gloves for cleaning as washing your hands may not be easy.

EMERGENCY TOILET
Large Home Depot type bucket with tight fitting lid
Plastic bags for liners
Disinfectant or bleach
Deodorizer

TOOLS FOR PREPARATION
Hand tools - hammer, screwdrivers, saws
Cordless Drill
4-by 8-foot sheets of plywood 3/8-inch to 1/2-inch thick to put over your windows. Make sure you ask for exterior plywood.
1/4-inch machine screw sockets and screws
Plastic sheeting to cover furniture
Rope
Sturdy working gloves
Duct tape to waterproof items. Masking tape isn't strong enough
Canvas tarps
Nails

CLEANUP TOOLS
Shovel, Rake, Hand Saw, Chain Saw, Pruning Saw
Large Lawn and Leaf Bags
Trash Can
Gasoline - I suggest having several gas cans that you can safely store.

FOOD SUPPLIES
Stock up now with at least two weeks worth of food. Next time you are in the grocery store and see canned goods on sale, pickup a few extra items. Most canned goods can be kept for several years.
Water: 2 quarts to 1 gallon per person (get at least 1 week's supply)
Ice - If you have room in your freezer - start making ice now and put it in bags.
Ice Blocks - Blocked Ice melts slower than cubes. If you can freeze larger blocks of ice it will last longer in the cooler.
Juice
Beverages (powdered or canned, fruit juices, instant coffee, tea)
Prepared foods (canned soups, beef, spaghetti, tuna, chicken, ham)
Canned vegetables and fruits
Dried fruits
Snacks (crackers, cookies, hard candy, nuts, pretzels)
Snack spreads (peanut butter, cheese spreads, jelly)
Cereals
Raw vegetables
Sugar, salt, pepper
Bread
Dry and canned pet food
Extra formula, baby food
Alcohol - In moderation this can be a good thing. I pick up an extra case of beer and a few extra bottles of wine as hurricane season approaches.

ENTERTAINMENT
Being cooped up in the house can be very boring, both for the adults and the children. There is a good chance the TV will not be working as you may not have electric. Think cards, board games, toys, books and magazines. Battery powered radios with CD players, IPODs, etc are also good but make certain you have enough batteries to power these devices.


MONEY
You will want to have cash on hand for at least 2 weeks expenses. Have both large and small bills. You may not be able to use your Credit Cards. Both banks and ATMs may not be open for several days or even weeks. If you need food, gas, repairs to your home or anything else cash will be the preferred method for payment.


FOR YOUR PETS
Proper identification and immunization records
Pet Medications including tranquelizers
Plenty of food and water
Pet Treats
Pet carrier or cage
Leash for pet
Toys for pets - they too may be nervous about the storm.

KEEPING FOOD COLD
1) Before the storm, turn your refrigerator and freezer to the coldest setting.
2) Move perishable items that you will use first into coolers filled with ice (preferably blocks) to limit opening of refrigerators.
3) Designate one cooler you will open regularly; fill that with drinks and less perishable items. 4) Setup a second coolers for perishable items such as fish, meat and checiken. Only open this cooler when necessary. You want to keep this cooler as cold as possible.
5) Days / Weeks before the storm start making ice. Fill ice cube trays or jugs or tupperware containers with water, so you can be making and storing ice in your freezer or coolers around the clock.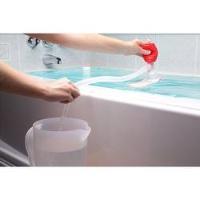 EXTRA WATER
Clean your bathtub out, then wash it with bleach. Rinse thoroughly. If possible you should line the tub with plastic. This water can either be your drinking water, or it can be used for flushing the toilets.
A company called Cheaper Than Dirt sells a product called a "Water Bob". It comes with a Siphon Pump and Holds 100 Gallons of water in your bath tub in an FDA Approved Bag. It's about $20 and could be worth the investment.
http://www.cheaperthandirt.com/CAMP205-1.html

Portable Generators - Is a generator right for you?
Portable generators are available for power outages as well as campsite or jobsite use.
Permanently mounted stand-by generators provide automatic power when the regular power supply is interrupted. Powered by natural gas, they can power selected circuits within a few seconds of a power failure. These are wise investments for areas that may experience frequent power outages.

Depending on their wattage output, generators will run anything from a small lamp to a number of large appliances. To determine the size generator you will need, total the wattage of the maximum number of items you will be running simultaneously. For items with start up ratings higher than their run ratings, use the higher rating to determine your power requirements.

Inductive load appliances and tools such as refrigerators, washers, and power tools require additional wattage for starting the equipment. The initial load only lasts for a few seconds on startup but is very important when calculating your total wattage.

Did you see something that we forgot? Please e-mail us your ideas. We are trying to build the best Hurricane & Tornado Safety Website to help Florida residents prepare.